An act of political truthful free speech by Justin J. McShane
Did Judge Jonathan D. Grine commit perjury?
It depends on your definition of the word "never."
I really liked President William Jefferson Clinton. It was not due to his political positions and certainly not his moral compass. But one cannot help to be impressed with someone who can state under oath that the word "is" really doesn't mean "is." Who can forget this?

As regular readers will recall, we here at The McShane Firm and one of our hard working and dedicated associates were sued by a coward in a robe: Judge Jonathan D. Grine of Centre County.
Judge Grine sued all of us….. and lost
Why did we get sued? Because we dared to investigate allegations on behalf of one of our clients that this judge (and another then-Judge by the name of Bradley Lunsford) were engaged in improper ex parte communications with the Elected District Attorney and some of her staff. In doing so, we asked for and were given cell phone records that showed a whole lot of contact (but not content).
Judge Jonathan D. Grine of Centre County sued under seal (meaning in secret) us and others in an ill-fated attempt to silence the First Amendment that is enshrined in the Constitution that he swore to uphold.
How did he do it? He was able to use his position of power to march down the proverbial hall to his Senior Judge friend and get an immediate order signed (perhaps even before the petition itself was docketed) enjoining us from not only publishing these public records that we lawfully received, but from even mentioning the lawsuit or use its materials to advance the cases of our clients.
This was an act of a coward.
It came to pass that the matter was set for a hearing. He lost. We won.
And this Friday, we were proud to report that it turns out that according to the Office of Disciplinary Counsel of PA, we were correct all along!
But the story does not end there.
At the time of his ill-fated lawsuit in an attempt to erase the First Amendment, Grine offered testimony under oath: an oath to tell the truth, the whole truth and nothing but the truth. In that hearing (click here to read the entire transcript: Grine – Transcript), he said as follows: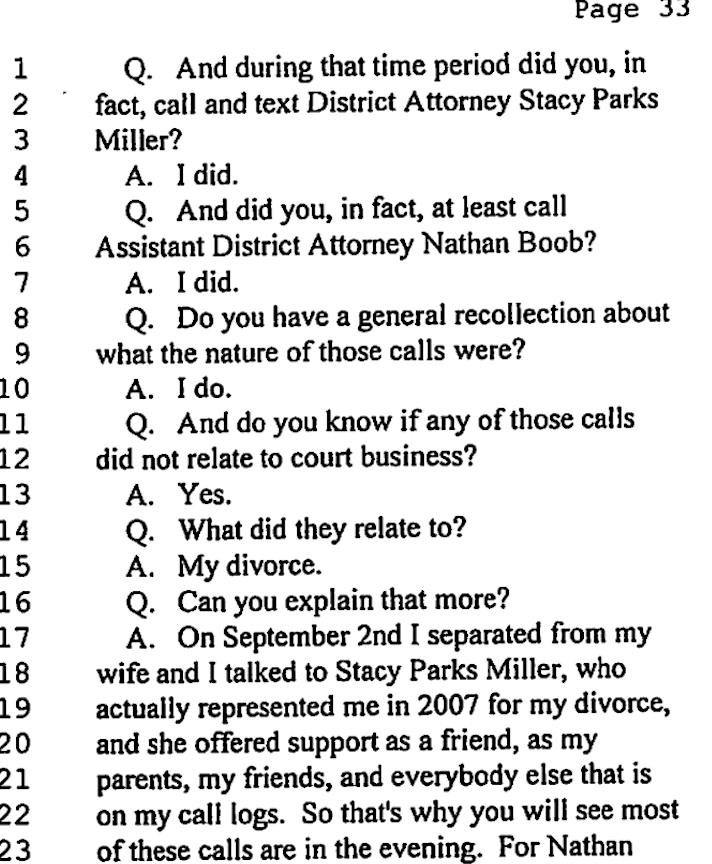 ……

……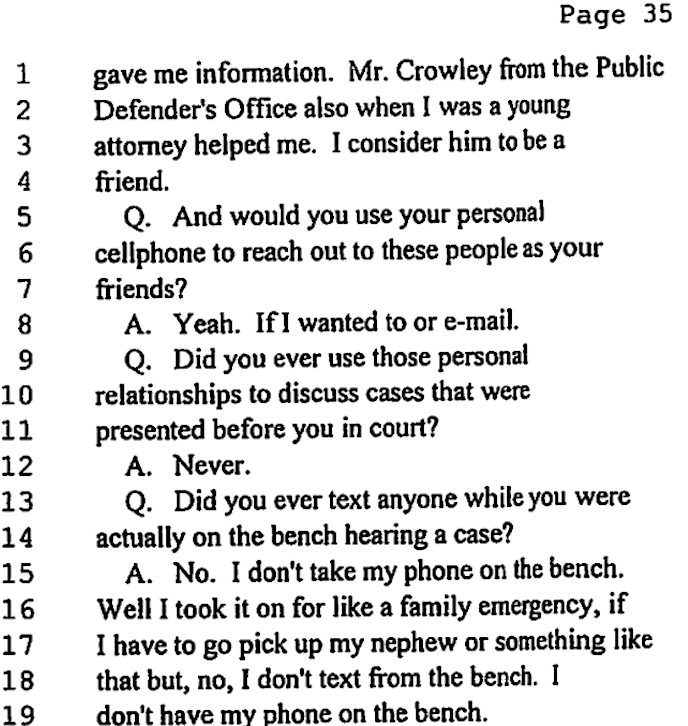 And there it is. One word: NEVER. Page 35 line 12.
And just for context this was his own lawyer asking him what is safe to assume were prepared and practiced questions. In his testimony, he said that he NEVER discussed cases that were presented before him in court ex parte via text or otherwise. In fact, he goes one further and claims he never texts anyone from the bench.
At the time, we thought this was suspect. But we had no proof. That is until the allegations of the Office of Disciplinary Counsel (ODC).
As we reported on Friday (August 18, 2017), the Office of Disciplinary Counsel filed its Petition for Discipline against Stacy Parks Miller.
In and of itself, is an amazing read.
Of the many noteworthy matters in there is an outline of the efforts that the ODC and the commendable lengths that they went to investigate these matters (unlike, it seems, the efforts of the Judicial Conduct Board). Specifically, the ODC alleges that they engaged the efforts of a data recovery expert. According to their petition, this is what was recovered: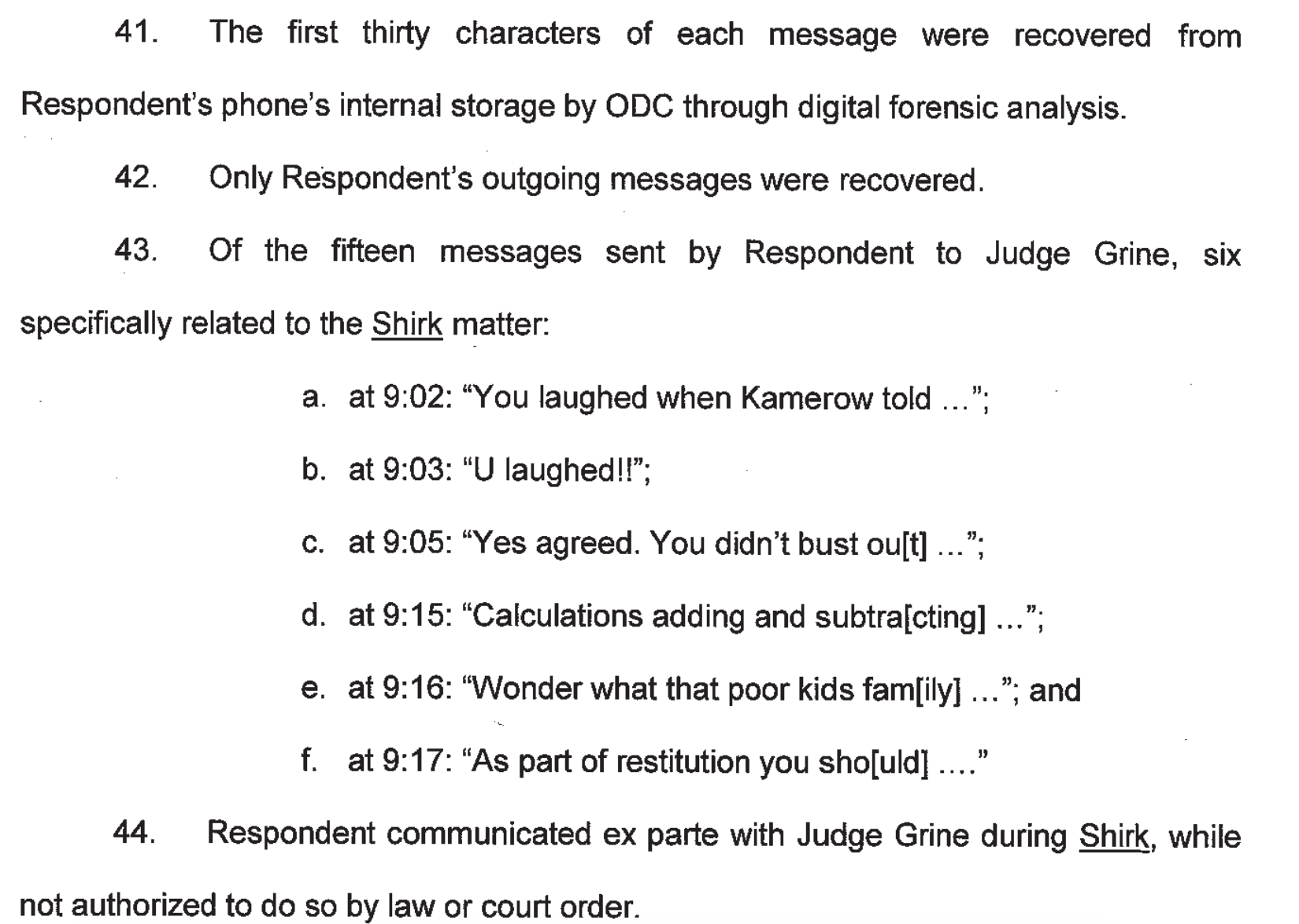 [Blogger's note: Respondent refers to Stacy Parks Miller]
There is but one conclusion:
Because of the alleged recovered digital data by the ODC efforts per the Stacy Parks Miller Petition for Discipline, this testimony that he NEVER discusses cases before him ex parte and that he never brings his cell phone out on the bench is, at the very least, contradicted and is most likely perjury.
What will happen?
I have zero confidence that The Pennsylvania Judicial Conduct Board will actually investigate and prosecute Judge Grine for his transgressions. As we have seen in the past, when then-Judge Lunsford was being investigated by the Judicial Conduct Board, he was "allowed" to resign and therefore keep his hefty public pension. As he "resigned" the JCB said, more or less, that it had better things to do than to fully investigate the issue, issue findings and/or prosecute. It must be nice to wear the black gown in that case.
Will the same type of treatment come to pass with this and Judge Grine? Beats me. I will do what I do. I will file the complaint with the JCB. I will let the facts be known to those who are empowered to enforce them. I will speak truth to power. If you or I had made the same exact statements under oath, would we get away with it?
What do you think?