Pennsylvania DUI Law Review: DUI Refusals Because of Confusion
Under  Pennsylvania DUI Law, when you are arrested you are given the Implied Consent Warnings commonly called the O'Connell warnings, which is in PennDOT DL26 form.  It is read word-for-word and often with no explanation of what the legal terms mean or explanation of what the sections of the vehicle code are as they are simply presented by their statute number.
So, I thought about this and how it effects DUI cases.  As a Pennsylvania DUI Lawyers who has dealt with numerous refusal cases, I have found that a lot of DUI refusals come about as a result of the totally ridiculous language in these warnings that causes a great deal of confusion.  People don't understand and they refuse.  The prosecution argues consciousness of guilt (meaning that only a drunk person would refuse to take the test) which is not fair if it was truly due to confusion and unclear language.
The Wording of the Implied Consent Warning for Pennsylvania

Please be advised that you are under arrest for driving under the influence of alcohol or controlled substance in violation of Section 3802 of the Vehicle Code.  I am requesting that you submit to a chemical test of blood, breath or urine.  It is my duty as a police officer to inform you that if you refuse to submit to the chemical test, your operating privilege will be suspended for at least 12 months, and up to 18 months, if you have prior refusals or have been previously sentenced for driving under the influence. In addition, if you refuse to submit to the chemical test, and you are convicted of or plead to violating Section 3802(a)(1) (relating to impaired driving) of the Vehicle Code, because of your refusal, you will be subject to more severe penalties set forth in Section 3804(c) (relating to penalties) of the Vehicle Code, the same as if you would be convicted of driving with the highest rate of alcohol, which include a minimum of 72 consecutive hours in jail and a minimum fine of $1,000.00, up to a maximum of five years in jail and a maximum fine of $10,000.  It is also my duty as a police officer to inform you that you have no right to speak with an attorney or anyone else before deciding whether to submit to testing and any request to speak with an attorney or anyone else after being provided these warnings or remaining silent when asked to submit to chemical testing will constitute a refusal, resulting in the suspension of your operating privilege and other enhanced criminal sanctions if you are convicted of violating Section 3802(a) of the Vehicle Code.
Measuring the Readability of the Implied Consent Warnings
There are a number of indexes in use that measure the readability of a given text.  Normally linguists and educators use these formulae to make sure instructional materials are suitable for a particular age group.  So I ran the Implied Consent Warnings through these formulas and found the following results:
Reading Ease
The first score we calculated was the Flesch-Kincaid Reading Ease (Wikipedia). The text scored 29.40 on this scale (a higher score indicates easier readability; scores go from 0 to 100).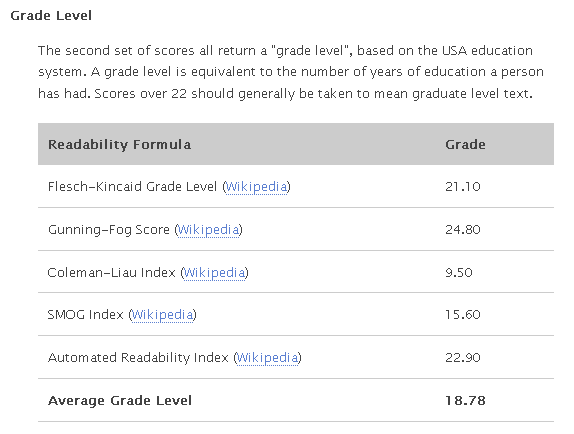 These metrics show that this text is written for a very high grade level.  A score grater than 22 is generally thought of needing graduate level education to understand.  Pennsylvania has a very diverse population and many citizens do not possess the comprehension skills need to decipher this text. This becomes an even bigger problem because of the added penalties that are linked to a DUI refusal in Pennsylvania.
Limitations of These Measures
Admittedly, these metrics are limited in that they don't take into account the way words are used.  For example the words "sanctions" and "baseballs" will rate about the same seeing that they have the same number of letters and syllables.  My intuition is that a readability expert would rate this text even higher.  Also we should keep in mind the overall situation.  Is a driver who has just been pulled over, who is scared and nervous, really in the right frame of mind to understand  complex legal ramblings?  What about people who's first language isn't English?  Don't they have the right to understand the law being applied against them? ( According to some Pennsylvania officials, they don't!)
What's wrong with making Pennsylvania DUI laws simple so that drivers can make informed decisions?
If you have any questions about the Pennsylvania Implied Consent Law please call The McShane Firm at 1-866-MCSHANE or contact us .
comments