Under Pennsylvania Law, your driving license can be suspended without a hearing
In Pennsylvania a police officer or Trooper cannot administratively suspend your driver's license right on the spot for an allegation of a DUI no matter how high your BAC is.  The same holds true for a District Attorney.  All license suspensions in the Pennsylvania for DUIs are strictly conviction based (except for an alleged refusal).
Even for an alleged refusal to submit to a chemical test of breath or blood Due Process in involved where you have the opportunity to challenge the loss of license BEFORE it happens.
Under one circumstance, your license can be suspended immediately without a hearing.
Question:  Who has this type of power?  More power than a police officer, a Trooper or a District Attorney?

Answer:  Believe it or not, it is an Emergency Room physician.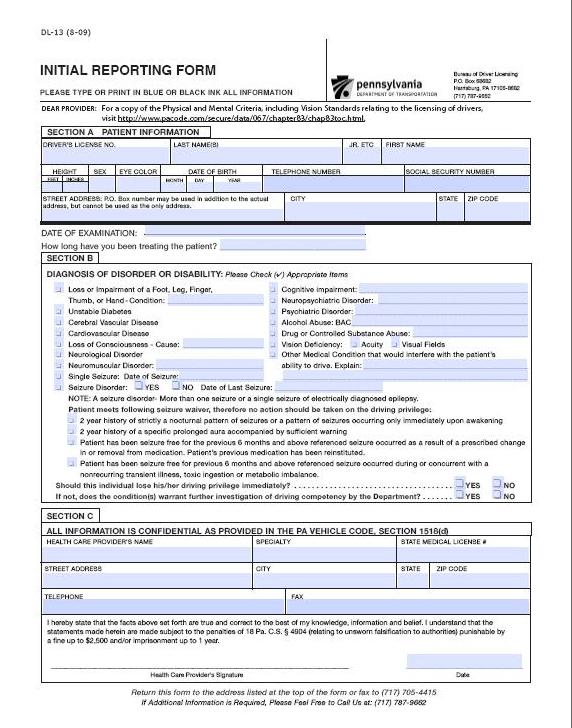 (Pictured above is the PennDOT DL-13 form)
PennDOT allows an ER Physician to file a form that is known as the DL-13 form (Initial Reporting Form).  Within it, the ER Physician must accuse you of having an alcohol abuse problem and report a BAC.
Under Pennsylvania law, the filing of this form with PennDOT will trigger a letter to the motorist.  The motorist will then be placed on notice that his/her license is revoked unless or until to PennDOT's satisfaction a reputable health care provider submits enough documentation that you are in fact not a problem drinker and can safely drive an automobile (SUBSTANCE ABUSE FORM DL-128).  This is a conjunctive notion meaning that both have to be proven by the motorist.  As an alcohol abuse problem that does not affect one's ability to safely operate a vehicle is acceptable.  Go figure.
So what is the big deal?
The Emergency Room physician has less than a couple of minutes experience with you over your entire lifetime.  Maybe even seconds.  Certainly not enough to diagnosis in a clinically responsible way that someone does or does not have an alcohol dependence problem.  The ER physician may only have the once in time Blood Alcohol result that is arrived at through enzymatic assay testing for BAC content which I have written about before as being prone to huge error in a trauma situation.
Who is in a better position to evaluate you someone who knows you for more than a few minutes such as the ER physician or perhaps your family doctor or primary care physician?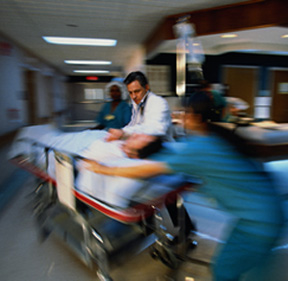 (An ER doctor may only see you for seconds)
Obviously, the primary care physician or your family doctor, right?
The Commonwealth of Pennsylvania doesn't think this way.  Even if PennDOT's Medical Advisory Board is served with the mandated form, FORM DL-128, which the Department specifically designates for such situations, PennDOT will oftentimes say this is not enough.  Another letter is sent that advises the motorist that pursuant to 75 PS § 1519(c), the motorist faces actual recall of the license.
It can be appealed.  It takes a smart lawyer who has successfully advocated for those who have been in similar situations such as the McShane Firm to right this rush to judgment.  We have experienced Pennsylvania DUI lawyers who have fought thousands of DUI cases and know Pennsylvania DUI law and what has to be done to protect you.
Unlike in a refusal context any appeal from a recall notice under such a circumstance does not trigger an automatic supersedeas (stay in the suspension)
This is why time is of the essence and any delay can have disastrous consequences.

---
-Justin J. McShane, Esquire, Pennsylvania DUI Attorney
I am the highest rated DUI Attorney in PA as Rated by Avvo.com
You can follow me on Twitter, Facebook or Linkedin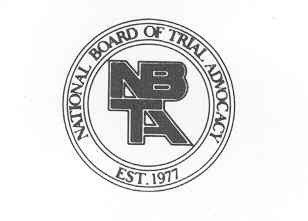 Board Certified Criminal Trial Advocate
By the National Board of Trial Advocacy
A Pennsylvania Supreme Court Approved Agency
For Additional Free Information: