Welcome to part 4 of this series where we will discuss how people can become wrongfully convicted and sent to prison just because of the misconduct of police and state prosecutors. Sometimes an officer may hold back some evidence found at the scene of the crime.  Sometimes forensic evidence is not sent to the lab for testing.  Sometimes the officer just wants to close the murder case.  Whatever the reason, prosecutorial misconduct can occur. The Criminal Justice System is not infallible. Truth and justice are not always defended.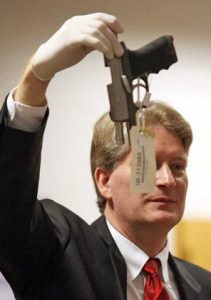 And what are WE THE PEOPLE supposed to do when the ones who are entrusted with making and enforcing the laws are in essence breaking them.
One of the biggest problems are those overly ambitious prosecutors who will do anything to secure a conviction, even at the expense of the truth.
Common forms of POLICE misconduct that exist:
Forcing the suspect to make a false confession
Lying to jurors about their observations
Not turning over exculpatory evidence to prosecutors
Use of incentivized informants
Common forms of PROSECUTORIAL misconduct that exist:
Withholding exculpatory evidence from defense
Deliberately mishandling evidence
Calling of false witnesses to the stand
Pressuring defense witnesses not to testify
Relying on fraudulent forensic experts
Failing to disclose deals or potential deals to cooperating witnesses (snitches)
The Innocence Project is a legal organization that serves those who have been wronged by the Criminal Justice System. For instance, The Innocence Project help to exonerate Ray Krone, who was sentenced to death in 1992 for a brutal murder in Arizona. The Krone case is prominent example of government misconduct.
The night before the trial, the State prosecution informed the defense that they were prepared to show a video, which was not given to the defense. In court, the gruesome video showed a bite mark expert holding molds of Krone's teeth next to the murdered victim's corpse to suggest an exact match. It was later revealed that a leading FBI bite-marks expert had told the prosecution that there is no way that Krone could have make those bite marks. The first trial was reversed on appeal because of prosecutorial misconduct. But at a second trial, Krone was convicted to death because of those same faulty bite marks.  Finally in 2002 Krone was exonerated by DNA evidence after having served 10 years in prison.