Attorney Justin J McShane, Harrisburg DUI Lawyer, has earned Board Certification in Criminal Law by the NBTA/NBLSC.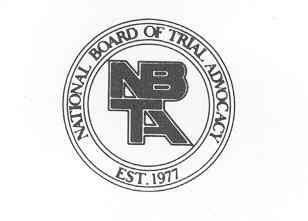 From the NBTA/NBLSC website:
The National Board of Legal Specialty Certification is an outgrowth of the National Board of Trial Advocacy. The NBLSC is an organization accredited by the American Bar Association to provide certification. It has developed over the years to where it has several divisions including the National Board of Trial Advocacy (NBTA) which was the original non-profit organization dedicated to certifying lawyers as being competent.

The National Board of Trial Advocacy (NBTA) was founded in 1977. The NBTA is dedicated to bettering the quality of trial advocacy in our nation's courtrooms and assisting the consumer of legal services in finding experienced and highly qualified trial lawyers.

The NBLSC is accredited by the American Bar Association (ABA) to certify lawyers in the specialty areas of civil, criminal, family law trial advocacy and social security disability advocacy. The organization went through a rigorous application process wherein panels were chosen by the ABA-Standing Committee on Specialization to evaluate each aspect of NBLSC's structure. This review included not only our standards and certification policies but also an intensive evaluation of all aspects of the operation from financial solvency to a complete screening of all decision makers.

The NBLSC like the NBTA has a philosophy that bona fide attorney certification programs–particularly in trial advocacy–can substantially advance the public interest. Over 35 years ago, then-Chief Justice Burger commented that "some system of certification for trial advocates is an imperative and long overdue step." Burger, The Special Skills of Advocacy: Are Specialized Training and Certification of Advocates Essential to Our System of Justice? 42 Fordham L.Rev. 227 (1973.)

In his view, the absence of certification programs "has helped bring about the low state of American trial advocacy and a consequent diminution in the quality of our entire system of justice." pg. 230 He expressly endorsed "certification of the one crucial specialty of trial advocacy that is so basic to a fair system of justice and has had historic recognition in the common law system." pg. 239

NBLSC's areas of certification are civil, criminal, family law trial advocacy, and social security disability. The standards set forth by the Board of Directors are challenging and meaningful. NBLSC is a voluntary certification. It is not a requirement to practice law and, therefore, any lawyer who has taken the extra time and effort to achieve this credential can be justifiably proud. A consumer of legal services who chooses an NBLSC member can be sure of obtaining a highly experienced trial law practitioner.

The requirements for certification must be successfully met within two years of applying, in accordance with the guidelines set forth by the Membership Director. This is necessary to keep all information as current as possible.

On June 4, 1990, NBLSC was victorious on the US Supreme Court level in the case of Peel v. Attorney Registration and Disciplinary Commission of Illinois. In their opinion, The Court stated;

"We find NBLSC standards objectively clear, and, in any event, do not see why the degree of uncertainty identified by the State Supreme Court would make the letterhead inherently misleading to a consumer. A number of States have their own certification plans but there is no evidence that the consumers in any of these States are misled if they do not inform themselves of the precise standards under which claims or certification are allowed."

Peel v. Attorney Registration and Disciplinary Commission of Illinois, 110 S.Ct. 2281 (1990).

NBLSC's certification procedures are widely recognized as exemplary. The Task Force on Lawyer Competence of the Conference of Chief Justices found in a 1982 report that:

The National Board of Trial Advocacy, a national certification program that provides recognition for superior achievement in trial advocacy, uses a highly-structured examination to select its members …

[Certification by the National Board of Trial Advocacy is an arduous process that employs a wide range of assessment methods and entails considerable cost to the candidate.

Report with Findings and Recommendations to The Conference of Chief Justices, May 26, 1982 (Publication Number NCSC-021).

The Supreme Court of Minnesota has recognized that "NBLSC applies a rigorous and exacting set of standards and examinations on a national scale before certifying a lawyer as a trial specialist, either criminal or civil or both." In re Johnson, 341 N.W.2d 282, 283 (Min. 1983); see also ex parte Howell, 487 So2d 848 (Ala. 1986).

As the US Supreme Court stated in their opinion:

"There is no dispute about the bona fides and the relevance of NBLSC certification. The [Attorney Registration and Disciplinary] Commission's concern about the possibility of deception in hypothetical cases is not sufficient to rebut the constitutional presumption favoring disclosure over concealment. Disclosure of information such as that on petitioner's letterhead both serves the public interest and encourages the development and utilization of meritorious certification programs for attorneys."

Peel v. Attorney Registration and Disciplinary Commission of Illinois, 110 S.Ct. 2281, (1990).
Again according to their website:
To date, there are over 2400 members; 2143+civil trial law, 231+criminal law, 58+family law, 47+social security disability. 200 active applicants. From 1980-1987, NBLSC board certified almost 900 attorneys. In the subsequent four years, the number of members increased by over 50%. This acknowledges the trend of specialization in the legal profession and the need to have verifiable methods by which to enable the consumer to choose a qualified and experienced trial lawyer.

It is important to note that every NBLSC board certified attorney has met all the standards (Civil, Criminal, Family Law, or Social Security Disability) for initial certification and recertification. There have been no exceptions and no attorney has ever been "grandfathered" in or waived from any requirement.

---
-Justin J. McShane, Esquire, Pennsylvania DUI Attorney
I am the highest rated DUI Attorney in PA as Rated by Avvo.com
You can follow me on Twitter, Facebook or Linkedin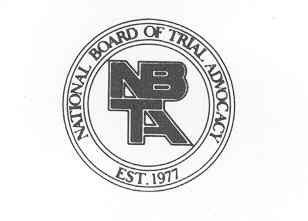 Board Certified Criminal Trial Advocate By the National Board of Trial Advocacy
A Pennsylvania Supreme Court Approved Agency