PA DUI Attorney Justin McShane to Lecture at the 18th Annual Mastering Scientific Evidence in DWI/DUI Cases
I have worked extremely hard to become the best DUI Attorney I can be and have been recognized for this by DUI lawyers all over the country.  One of the highest forms of recognition is being asked to lecture in advanced DUI seminars and teach other lawyers about how to better defend DUI cases.  No DUI lawyer in PA has the speaking resume I do.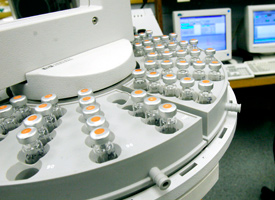 About the 18th Annual Mastering Scientific Evidence in DWI/DUI Cases Seminar
The 18th Annual Mastering Scientific Evidence in DWI/DUI Cases includes many of the top DWI/DUI experts and lawyers in the country. The seminar was founded by William C. "Bubba" Head, one of the deans of DWI defense law, in Atlanta, Georgia, in 1994. The Texas Criminal Defense Lawyers Association and the National College for DUI Defense (NCDD) have continued the tradition of excellence for which this seminar has become known. It has been, and remains, the premier DWI/DUI Scientific Evidence seminar in the country.
I have been invited to present the lead lecture entitled Fundamentals of Gas Chromatography: You Cannot Defend Against It Until You Understand It.
Gas Chromatography (GC) is one of the most popular methods used for DUI blood testing.  However, contrary to popular belief, GC is fraught with potential errors which can produce artificially high BAC results.  The only way to find out about these errors is through aggressive and extensive cross-examination and the only way to cross-examine a GC expert is to understand how GC works.  I have done extensive research work on GC and have lectured and written about GC numerous times while most DUI Lawyers in PA have never even seen a GC live.
DUI is a serious crime in PA.  If you want to defend your rights you need an experienced DUI attorney.  Please call 1-866-MCSHANE to have a renowned and respected attorney review your case.