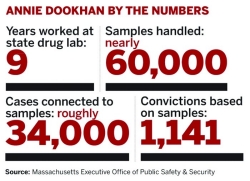 Recently, Chemical and Engineering News (C&EN) interviewed me for a feature they were doing on Annie Dookhan:
Police arrested a Massachusetts forensic chemist on Sept. 28. Annie Dookhan allegedly tampered with drug evidence in criminal cases, forged colleagues' signatures, and faked her academic credentials while working at a state crime lab. The unfolding investigation, which could upend thousands of narcotics convictions, has already led to the shutdown of the lab and the resignation of the state public health commissioner who oversaw it.
One interesting thing about this article is how they showed the impact of these alleged crimes. As officials dig deeper, they will only uncover more and more innocent people who have been affected by this tragedy.  Many of them, will have already paid their unjust penalties or served their unjust jail time.  Some of them may have even lost everything.  How can these people ever be compensated for what they have suffered?