Do you think it is proper for a court to order anyone to support a failing charity that is politically active that uses its political might to fund itself?
Well, that is what happens whenever you plead guilty or are found guilty of a DUI in every state. The Judge imposes fees, fines and costs as well as ordering that you have to attend a "DUI Victim Impact Panel." You are court ordered to fund MADD every time this happens. MADD has a monopoly in some of these fees and have a total monopoly on the "DUI Victim Impact Panel."
They use the money to advance a wholly political agenda. A long time ago, MADD had a good and laudable goal that I believed in which is to stop drunk driving through education, not what it is now which I do not support and think is an abortion of the original vision and goal of the true charity. Now, its unabashed goal is decidedly a money game of supporting itself through court-ordered and federal/local funding with the veneer of trying to establish a neo-prohibitionist agenda to end all forms of social and responsible drinking. They now use their money and political might to elect politicians who then later pass the laws that require all those convicted of DUI to attend these panels and pay these fees to MADD, and also to elect (or have appointed by those who they helped get into office) judges who impose the sentence that requires from offenders money to feed (over $7,500,000.00) their further political and monetary self-serving goals. They use their money to fund federal elections to back candidates who in turn funnel federal money (over $8,000,00.00) to them.
What other "charity" does that? None.
Here is the proof from MADD's own federal 990 form.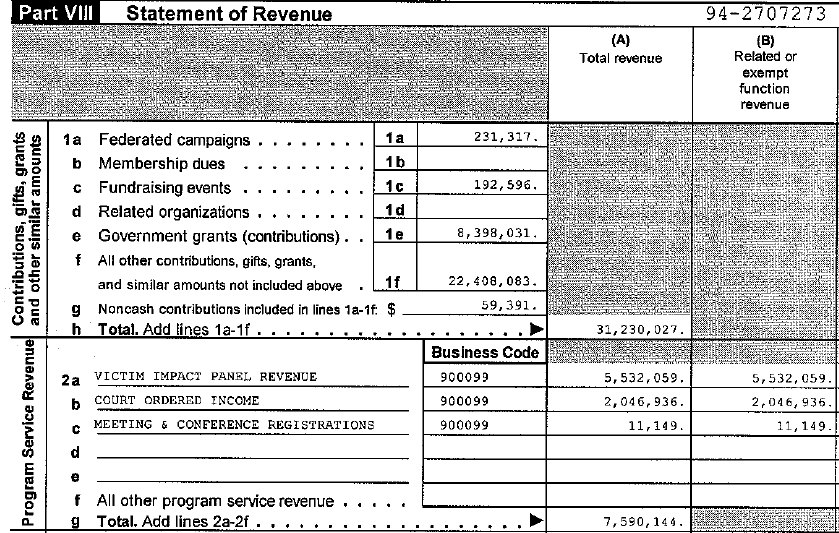 According to Charity Navigator, they rate the MADD "charity" at 32.4 out of 100. According to their research, they name the CEO compensation for fiscal year 2009 as follows:
| | | | | |
| --- | --- | --- | --- | --- |
| Charles A. Hurley | Chief Executive Officer | $234,208 | 0.52% | |
According to Wikipedia,
According to the Obama-Coburn Federal Funding Accountability Transparency Act of 2006, MADD received $56,814 in funds from the federal government in fiscal year 2000, and a total of $9,593,455 between fiscal years 2001 and 2006. In 1994, Money magazine reported that telemarketers raised over $38 million for MADD, keeping nearly half of it in fees. This relationship no longer exists. 2001, Worth magazine listed MADD as one of its "10 worst charities." In 2005, USA Today reported that the American Institute of Philanthropy was reducing MADD from a "C" to a "D" in its ratings. The Institute noted that MADD categorizes much of its fundraising expenses as "educational expenses", and that up to 58% of its revenue was expended on what the Institute considered fund-raising and management. Charity Navigator rated MADD at 36.72 on its charity rating scale for the 2006/2007 fiscal year, based on it efficiency and capacity.[19] MADD reported that it spent 16% of its budget on fundraising that year. Charity Navigator reported MADD's total revenue for the year as $49 million (US). In 2009 MADD took in $41,006,038 and paid salaries of $20,537,936, over half of their income.
You can download and see for yourself MADD's entire federal 990 form.
Anyone else want to form a "charity" with me?