Pennsylvania has seen share of K2 and spice emergencies, due to bad batches, or overdoses during over the past years. One brand in particular, called Darkness is responsible for sending 20 patients into the ER at PinnacleHealth during the first weekend of August 2016. Dauphin County's Drug Task Force and Harrisburg police are investigating to find the source of the substances.
What exactly is K2?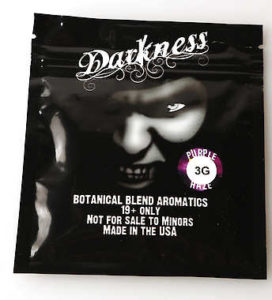 K2, or synthetic marijuana, is a dried herb and spice blend, resembling potpourri, which is sprayed with a chemical and smoked. JWH-018 the main ingredient in K2 and Spice, and has been declared illegal in PA and federally. It is readily available in convenience stores and sold as incense in brightly colored packets called K2, Spice, Green Giant, and Scooby Snax. Side effects of K2 may include are paranoia and hallucination, violent screaming and arms flailing, palpitations, vomiting and dilated pupils.
What is the penalty for K2 possession or sale in PA?
Possession with the Intent to Distribute – an ungraded felony with a maximum sentence of up to 5 years in prison and a fine of up to $15,000
Simple Possession – Up to one year in prison and up to $2500 in fines for a first offense. If it is a subsequent offense then it is up to 3 years in prison with up to $25,000 in fines
Synthetic marijuana is extremely dangerous, more so than natural marijuana. Users think that they are getting a stronger, more potent marijuana. But K2 is prepared without quality control in batches with unknown potencies and unknown chemicals, mostly coming from China. Medical professionals and law officials are advising people to stay away from K2 and similar synthetic marijuana.
If you have been charged with an offense related to synthetic marijuana, please call 1-866-MCSHANE.  We have handled these cases before and know what needs to be done to protect your rights.