Get this! A drunk Colorodo man was riding his horse through a shopping plaza mall wearing a cowboy hat, when he received a $25 ticket for his class-B traffic violation.  Officers came to a parking lot in Arvada, a suburb of Denver, responding to a call of a cowboy who couldn't stay in the saddle. He said he was out for a "joyride" with his horse, Cricket.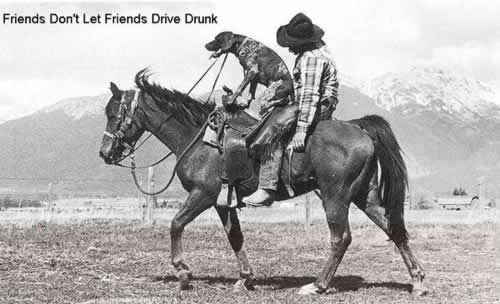 Apparently, this wasn't the first time Brian Drone had done this.
Arvada Police Sgt. Jeff Monzingo says this drunk "riding" charge was the first he'd seen in his 15 years in law enforcement. "This is kind of a tricky call," Monzingo said. "Unlike in a DUI where you can tow a car, we had to do something with the horse."
A stable owner eventually offered Drone and his horse a ride home.
Moral of the story: Don't Drink and Ride a Horse!
http://www.cbsnews.com/news/dui-on-horseback-colo-man-arrested-for-suspected-equine-alcohol-violation/