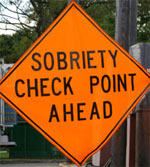 A sobriety checkpoint in York County and roving DUI patrols in Adams, Lancaster, and York counties are planned as part of enhanced efforts for DUI enforcement.
The sobriety checkpoint will be held this weekend between 6 p.m. Friday and 6 p.m. Sunday, the news release states. The roving DUI patrols will be held next weekend.  Locations have not been released.
If anyone has more information, please share it here for the benefit of all drivers.
Remember stay safe and know your rights.