Summertime DUI enforcement continues.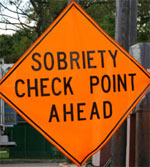 Montgomery County

The Montgomery Township Regional DUI Enforcement Team will conduct Sobriety Checkpoint Operations and Roving DUI Patrols on Friday through Sunday.

Sobriety Checkpoints are conducted on State Routes 309, 202, 2202, 463, 63, 313, 113, 611, Upper State Road and County Line Road.
We also encourage you to read:
If you have any questions and need to talk to an attorney, please call 1-866-MCSHANE.  Our lines are open 24/7.