Summer vacations are just around the corner visit some of the many  National Parks or National Forests in Pennsylvania, such as Gettysburg or on federal installations such as Fort Indiantown Gap.  And just as is the case every summer, the incidence of DUI arrests on federal lands increases dramatically.  What many people do not know is that a DUI on federal property is considered a federal crime and has different rules and regulations. The penalties and laws for a federal DUI are completely different from state laws and in most cases, convictions result in substantially harsher penalties.
Where are Federal Lands in PA?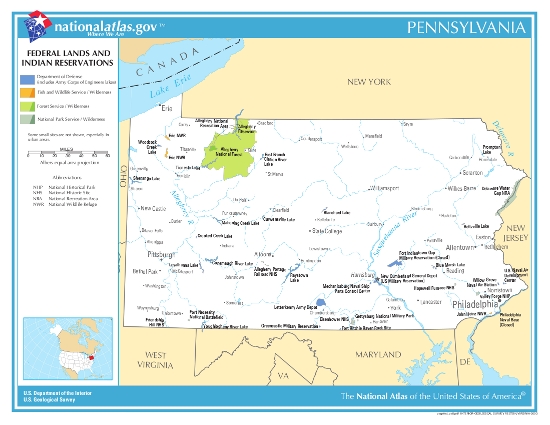 Pennsylvania is home to many National Parks such as Gettysburg National Military Park, National Forests such as Allegheny National Forest and several military bases and depots. These are all federal lands and a DUI charge in these areas will results in a federal DUI case.
What are the Penalties for a Federal DUI in PA?
There are two types of federal DUI offenses, those committed on lands administered by the National Park Service and those committed on other lands such as military bases.
For DUI cases on lands administered by the National Park Service, you can face up to six months in a federal prison as well as up to $5,000 in fines. These are much higher than the standard penalty range for a Pennsylvania DUI offense.
For federal lands not under the National Park Service, since there is no pre-defined federal law  for DUI, the prevailing state law is applied.  In some cases, if the offense is committed on  a military base, additional penalties may apply.
What are the Differences between a state DUI and a Federal DUI?
There are many important differences between a state and federal DUI.
A conviction will be documented on your federal criminal record. These is no possibility for expungement unless you are pardoned by the President. A DUI on your federal criminal record may prevent you from obtaining security clearance and may prevent you for certain job opportunities.
Federal DUI cases are handled in federal courts. You are not entitled to a jury trial. The verdict on your case will be issued by a judge.
Because of the complexity of federal DUI cases, is highly advised that you hire a DUI attorney with experience handling federal DUI cases. Your attorney must have admission into the Federal Bar.
Can any PA Attorney Defend a Federal DUI Case?
No. Only a qualified DUI attorney who has been admitted to the federal bar in the relevant jurisdiction can represent federal DUI cases. All of the DUI lawyers at The McShane Firm are admitted to practice in Federal Courts and have the experience and knowledge to protect your rights.  Don't jeopardize your future with a run-of-the-mill general practitioner.  Choose the DUI attorneys at 1-866-MCSHANE.