When you're facing a first-time Harrisburg DUI charge, the last thing you need is the added stress of financial concerns. That's where The McShane Firm comes in. With our affordable and flexible payment plans, you can focus on what truly matters: getting the expert legal support you need to defend your case and reclaim your life.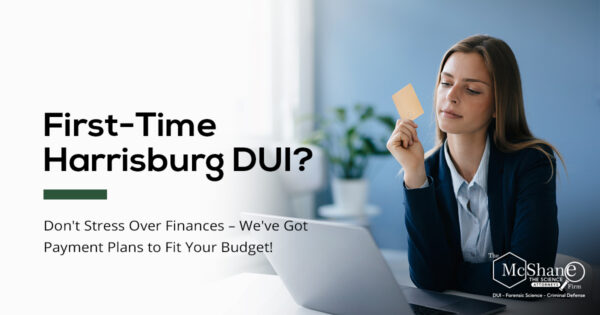 At The McShane Firm, we understand the emotional and financial strain that a first-time Harrisburg DUI can bring. That's why we've designed our payment plans to accommodate any budget, ensuring that you can access the top-notch legal representation you deserve without breaking the bank.
Our team of skilled attorneys has extensive experience handling DUI cases and is dedicated to fighting for the best possible outcome for our clients. We believe that everyone deserves the right to exceptional legal support, regardless of their financial situation.
When you reach out to The McShane Firm for a free, no-obligation consultation, you'll be connected with a seasoned attorney who specializes in first-time Harrisburg DUI cases. You won't be dealing with a receptionist or paralegal – you'll be speaking directly with a knowledgeable attorney who will take the time to understand your unique circumstances, answer your questions, and offer honest, compassionate advice.
We're not interested in simply quoting a price like a grocery store clerk. At The McShane Firm, we genuinely care about your well-being and are committed to helping you through this challenging experience. Our team is here to provide hope, support, and guidance every step of the way.
Don't let money worries stand between you and the expert legal representation you need. Contact The McShane Firm today to learn more about our budget-friendly payment plans and begin building a solid defense for your first-time Harrisburg DUI case. Your future is worth it.