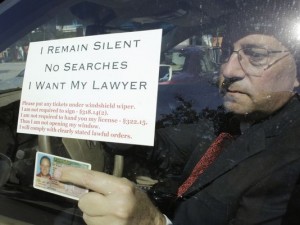 An attorney in Florida has recently proposed a tactic that drivers can use to avoid questioning at a DUI checkpoint.  Boca Raton attorney Warren Redlich suggests using a sign like the one he is holding. He has made a YouTube video, which has gone viral, showing how it works .
But could this method work in Pennsylvania?  CBS 21 Harrisburg recently asked Attorney Richard Roberts of The McShane Firm:
DUI Checkpoint laws

HARRISBURG, Pa.– A Florida attorney got national attention after he tried going through a DUI checkpoint without saying a word. That attorney said all a driver needs to do is show the officer a sign and a license through a closed window.  But is this method acceptable in Pennsylvania?


Video of a DUI checkpoint in Florida last New Year's Eve went viral. In the video police wave a driver through without asking him to roll down his window.  One may wonder if someone can actually get away with that?

The man behind the wheel in the video is Florida Attorney Warren Redlich. He says this is a way to protect a driver's rights at a DUI checkpoint; it's not however, designed to allow drunk drivers through the checkpoints.

Michelle Haselrig of Harrisburg doesn't agree with this tactic one iota.

"That would hurt somebody; get into a car accident when they could have stopped them. I don't think people should start doing this at all. Just go through the checkpoints," Haselrig said.

How feasible is this method in Pennsylvania?  Harrisburg DUI attorney Richard Roberts has the answers.

"Simply because you refuse to roll down your window, simply because you refuse to speak to the officer does not give them grounds to stop you," Roberts said.

It is by rights that one can keep their window up at a check point as long as you provide a visible license and registration, but it's not advised.

"You are drawing attention to yourself, so you understood that anytime you assert your rights there are probably some risks with people who think you're doing the wrong thing," Roberts said.

Studies have found that DUI checkpoints reduced alcohol related crashes by about nine percent.