Meet Grandpa Sam.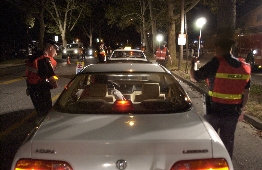 Who would have thought that Grandpa Sam would get pulled over for driving too slowly and then end up arrested for DUI? He is an elderly man on many medications and has a speech impediment due to a stroke BUT, none of his medications are considered a controlled substance so how can he be charged with a DUI: Controlled Substance?
75 Pa. C.S.A. §§ 3802(d)(2), Driving under influence of a Controlled Substance is committed if an individual drives, operates or is in actual physical control of the movement of a vehicle under the influence of a drug or combination of drugs to a degree which impairs the individual's ability to safely drive, operate or be in actual physical control of the movement of the vehicle.
So, Grandpa is pulled over, the officer does his standard "license, registration, insurance" and Grandpa Sam asks why he was pulled over. The officer interrupted him immediately asked if he had taken any prescription medications that day. Grandpa did as he always does, tells the truth. He admitted that he is on numerous medications and has been for many years. He pulls out his bag full of bottles and hands it to the officer. The officer takes it back to his car, spends about 5 minutes in his car and then comes back and tells grandpa to get out of the car and turn around. Grandpa asks what's going on. He's told he is under arrest for the "suspicion of DUI." I'm surprised Grandpa took this so well, but he knew the truth and that's why he agreed to go to the hospital for a blood test.
Thank goodness Grandpa immediately got an attorney involved because the the District Attorney wanted to take this case to TRIAL! The blood test came back in Grandpa's Attorney's words of "within therapeutic ranges" meaning he was not abusing his medications. Grandpa Sam ended up spending a lot of money- which wasn't easy for him being that his income is limited to pension and social security- but every penny was worth it as his innocence was proven.
Hopefully reading this will allow you (or your grandpa) to understand that driving is a privilege and should not be taken lightly!
*This is a fictional story that highlights the human stories behind many DUI arrests.  Not everyone arrested for DUI is an abusive drinker like the media would have you believe.  There are many hard working, good citizens who get arrested for being in the wrong place at the wrong time.
If you or someone you love is charged with a DUI in Pennsylvania, please call 1-866-MCSHANE. We want to hear your personal story and will fight for you and for the truth.