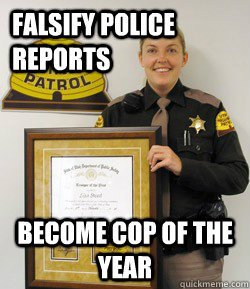 Imagine being charged with a DUI knowing you were 100% innocent and the charges were completely bogus.  Now imagine being convicted of this bogus DUI because the court believed the testimony of the corrupt police officer.
License suspension
Jail
Fines
Public embarrassment
All because of one corrupt police officer.
That is what a court found went on for years with one Utah State Trooper who filed bogus DUI charges and was ironically given awards for her "excellent service."  Recently, when her transgressions came to light, she was fired.  She appealed the termination and in her hearing the judge upheld the ruling against her:
SALT LAKE CITY — Former Utah trooper of the year Lisa Steed — fired eight months ago amid allegations of misconduct — won't be getting her job back.

An administrative law judge ruled late Thursday that the Utah Highway Patrol had substantial evidence to justify Steed's termination. The Salt Lake Tribune first reported the ruling.

"The decision to terminate was neither excessive, disproportionate nor an abuse of discretion," the judge, Katherine A. Fox, wrote in a 31-page ruling. "While abundantly clear that the grievant possesses a plethora of positive attributes which she could bring to another law enforcement job in an area she loves, that choice is not mine to make."

Steed was fired in November, accused of violating department policies, falsifying police reports and using questionable practices when making drunken driving arrests.
The plain and simple is that the system is broken. Corrupt officers can take advantage of the lack of oversight in these departments and their crimes go unnoticed. Unfortunately, so do the victims.