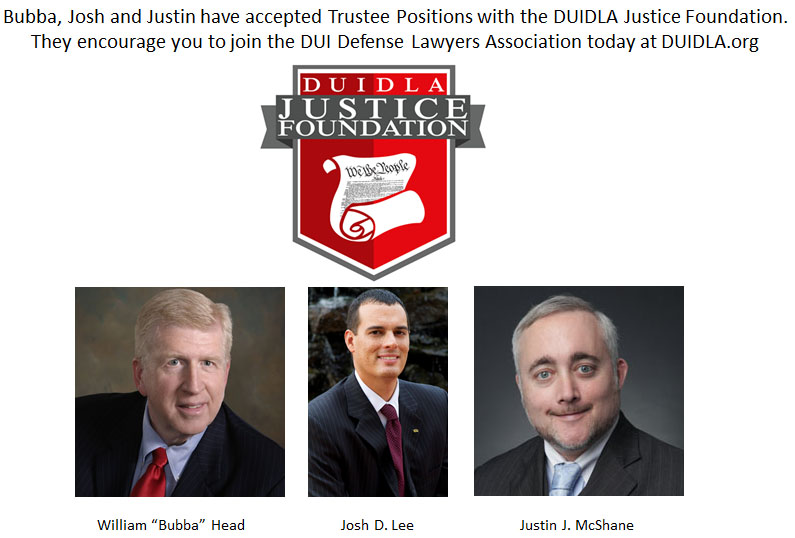 Dear Friends,
The three of us are excited about notifying you of an opportunity for you to join a NEW non-profit organization that was recently incorporated and established to advance the cause of aggressive and effective DUI-DWI defense across America. You already know the incorporators of DUIDLA through your years of law practice in the field of DUI-DWI defense. We embrace and approve of this organization's planned efforts to expand and improve its members' trial practice training and litigation expertise.
The name of the new organization is DUI Defense Lawyers Association (acronym: DUIDLA). We believe that DUI-DWI defense trial practice needs to have an alternative training and idea-sharing organization that offers the members of the organization the right to periodically elect its leaders through a democratic vote.
This organization is not intended to REPLACE the College. Many DUIDLA members are remaining in both organizations. Others are opting to join DUIDLA exclusively. This will be a personal choice for each potential member of DUIDLA.
However, the three of us have been focused on helping TRAIN lawyers in advanced trial tactics and litigation skills, which is our passion. Being able to inspire and teach new ideas and forensic methods to others is the sine qua non for us. With that in mind, an ancillary Foundation is also being established, and the three of us have volunteered to be part of the initial leadership of that related entity. Read more about this below.
While camaraderie and fellowship are highly desirable fringe benefits of being in a large, national organization, the CORE of why we "join" is to improve our trial capabilities for our respective clients' cases. DUIDLA will allow us to do this, and to eliminate politics from the equation, as much as is humanly possible.
DUIDLA was founded on the core issues of organizational transparency and conducting democratic elections of the group's leaders. We think that these basic concepts are part of what our Founding Fathers sought to build when they created the United States.
How is "transparency" an issue, you might ask? Example 1: All financial aspects of the organization will published on the members-only website. Example 2: Furthermore, all decisions and meetings are open to all. No executive sessions will be utilized in deciding key operational issues for DUIDLA. Most important to us is that leadership positions within DUIDLA are open to all members, through elections. This will allow the membership to elect those who contribute the most to the organization to be part of the leadership team. Plus, the terms will not be for more than a decade, but for a shorter period of time, for those willing to offer their candidacy to become leaders.
As all of you know, the only way the three of us know how to engage in law practice is to give our very best effort and guidance to those who are part of the training courses that we have taught. Nothing is held back at these meetings, and we always want to push our attendees further in their knowledge of advanced forensic instrument training and winning trial strategies. Shared knowledge is POWER in this business of ours.
We are particularly excited about is the financial disclosure aspects of the DUIDLA. In addition, the new by-laws have been established to utilize a portion of the funds of members (beyond the amount needed to oversee the group's necessary business operations), to provide advanced training for many younger attorneys who need to learn how to try these difficult cases, and our nation's public defenders. Significantly, the proceeds of DUIDLA membership dues and profits derived from our seminars will not be dedicated to absorbing all costs of the leaders' travel and hotel bills, but will be placed directly into a "not-for-profit" Foundation. This Foundation is called the DUIDLA Justice Foundation. The three of us have been offered and have accepted seats on the initial Board of this 5-Member Foundation.
With your membership, your moral support and your experiential contributions, we can all strive to become a "Johnny Appleseed" of DUI-DWI defense in our respective legal communities. Our view is that this should always be our goal — to be emissaries of tenacity and trial skill in our respective jurisdictions.
We see this exciting new start-up as a "win-win" for many additional reasons. We hope that you do, too.
If you like this new concept, please consider completing a Founding Member application or a Regular Member application for DUIDLA. At whatever level of commitment you feel you can contribute, please join us in this exciting new opportunity.
Your friends in justice,
William "Bubba" Head                        Josh D. Lee                                          Justin J. McShane