One of the main problems with DUI breath testing is that individual police departments are responsible for making sure the machines are working properly.  There are no checks and balances.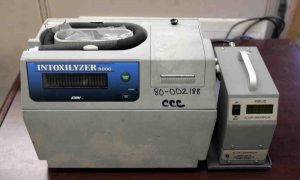 Imagine a restaurant conducting its own food and health inspections.  It makes no sense.  Well then why does it make sense for the police to do this?
The outcome is rather predictable.  Many times machines are not maintained properly and justice is compromised.
Just a few months ago, Philadelphia Police used an expired solution to calibrate their breath testing machines- calling into question hundreds of cases.  If a machine is not calibrated properly, the results are not reliable.
This is why it is so important for anyone facing a DUI charge to contact a professional DUI attorney who knows what they are doing.  A lot of times police mess up and we can use that information in court.  The police aren't going to tell you they made a mistake in the evidence, your attorney has to investigate and dig to get to the truth.
If you have been charged with a DUI, do yourself a favor and call 1-866-MCSHANE for a free consultation.  This is a choice you won't regret.