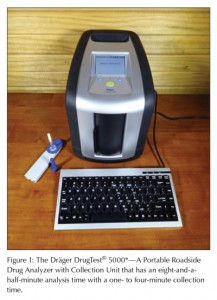 A new article co-authored by Attorney Justin McShane has been published in "Voice for the Defense," a publication of the Texas Criminal Defense Lawyers Association.  The article entitled "PBTs for Drugs: Oral Fluid Collection Devices" discusses the science behind portable breath test devices which are being used to screen for drugs.
Law enforcement agencies plan to use these devices at roadside to help them determine whether a driver has been using a controlled substance. It is already being used in 14 states.  With the federal government pushing for more stringent enforcement of drugged driving, the rest of the country can expect to see these devices soon.
It is currently only slatted as a pilot program here in Pennsylvania. It is very likely that it's use will expand.
While they are gaining popularity with law enforcement agencies across the country, these devices have severe limitations.  First and foremost, the technology is very new and its scope, to identify a wide range of drugs, is an optimistic one.  Furthermore, there are issues of accuracy and selectivity which could lead to a number of false positives.
Read more at: http://voiceforthedefenseonline.com/story/pbts-drugs-oral-fluid-collection-devices