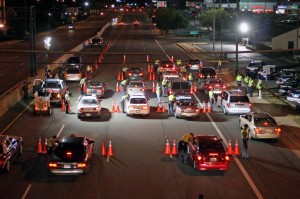 Here is a round-up of DUI checkpoints announced for the weekend of July 20-22. If you are arrested for a DUI please call PA DUI Attorney Justin McShane at 1-866-MCSHANE
DUI Checkpoints Scheduled For Bucks County

State Police announced that they will be holding DUI checkpoints in select areas in Bucks County this weekend.  They did not provide specific locations.

The checkpoints will be conducted from the night of Friday, July 20 through Sunday, July 22.
DUI Checkpoints in Bradford, Sullivan, Wyoming and Luzerne counties

The Pennsylvania State Police, along with municipal police departments, and the Bradford County DUI Task Force are conducting "Pennsylvania State Police Checkpoint Strike Force II. The areas covered are Bradford, Sullivan, Wyoming and Luzerne counties. Under this initiative, DUI checkpoints or roving patrols will take place every weekend for the rest of the year.
If you would like to stay up-to-date on DUI Checkpoints in PA, subscribe to our our Pennsylvania DUI Checkpoint Feed.
Remember to drive safely and make responsible and healthy decisions.