Defending with integrity, knowledge, and ethics
I have been blessed with the opportunity to lecture at many advanced DUI seminars across the country often sponsored by state-level associations of DUI attorneys, and even national seminars sponsored by the National College for DUI Defense, Inc.  In Pennsylvania, I have felt the need for an organized effort to educate attorneys about DUI related issues and advocate fair, meaningful and effective DUI legislation.  To this ends, my colleagues and I are proud to announce the formation of The Pennsylvania Association for Drunk Driving Defense Attorneys (PADDDA).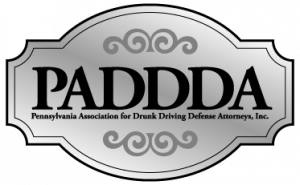 The Purpose of the PADDDA:
In 2010, Justin J. McShane, Esquire was appointed the Pennsylvania State Delegate for the Commonwealth of Pennsylvania by the Board of Regents of the National College for DUI Defense, Inc (NCDD). He and others recognized the need for a better level of communication, synergy and collegiality within the NCDD members of the Commonwealth of Pennsylvania. To that end, he established a listserv. It was proposed by McShane that this organization to be formed. The stated purpose was to provide for a more formal structure for those who are dedicated towards actually litigating DUI and DUI-related offenses for the benefit of the citizen among us who has been accused of such offenses. The idea was to organize the top Pennsylvania DUI attorneys into an organization that will promote greater and wider knowledge within the Commonwealth as to these issues, become involved in legislative and regulatory matters and file amicus curiae briefs to appellate courts within the Commonwealth of Pennsylvania and the Supreme Court of the Unites States.
I am very proud of this organization and grateful to be selected as the first Chairman of the PADDDA. It is our hope that the PADDDA can effect positive change and help protect the rights of those citizens charged with a DUI in PA.
If you have any questions about the PADDDA, please contact us using the linked web form.