Science is a very important part of criminal law, especially when it comes to DUI.  In many cases, the bulk of the evidence lies in blood and breath test reports.  To produce valid and accurate results, science has outlined specific methodologies and procedures that need to be followed and if these are violated, the results are not scientifically supported.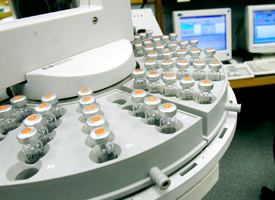 However, there is a disconnect between what science has mandated and what crime labs do.
The majority of crime labs are overworked and under-staffed and suffer from a lack of oversight.  To meet their high demand and increase output, technicians cut corners and violate scientific tenets with the end result being a report that looks like science but isn't science.
This is a very troubling problem that threatens us all.  Because of unscientific crime labs, criminals walk free because they cannot be proven guilty and innocent people are severely punished for crimes they did not commit.
As a criminal defense attorneys, The McShane Firm fights for justice and forensic reform.  If crime labs would properly follow scientific procedures, it would make this country safer for all of us.
If you are a victim of faulty forensics, please contact The McShane Firm at 1-866-MCSHANE.