A recently filed lawsuit shows two Pennsylvania State troopers allegedly discussing their "DUI Quota".
Without performing roadside sobriety tests to establish probable cause in a May 2015 arrest in the parking lot of a bar near Lehighton, troopers speculated whether the suspect sitting in the back of a cruiser was "DUI," the suit alleges.

One trooper asked another, "You mind if I take this?" adding, "I need my 20 for the month," the video shows.

"I need mine too, but I'll let you have him," the other trooper replied, according to the video.
We have been stating this for a long time on this space that DUI is a money grab and the motivations for DUI arrests have more to do with personal and financial incentives than they have to do with public safety. (See DUI is Policing for Profit)
Because of these personal motives, police will arrest drivers merely on suspicion, without any solid evidence.  Just imagine being on the receiving end of that- being a completely innocent driver who was arrested, humiliated, put through the court system and had to spend thousands of dollars just because some cop wanted a pat on the back.  It gets worse when you realize that many of these false DUI cases end up in convictions.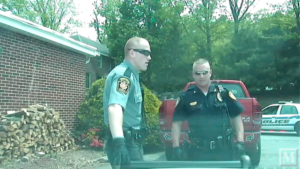 The article in The Morning Call is well worth a read: