If you are charged with DUI (driving under the influence) in the state of Pennsylvania, you can expect the following: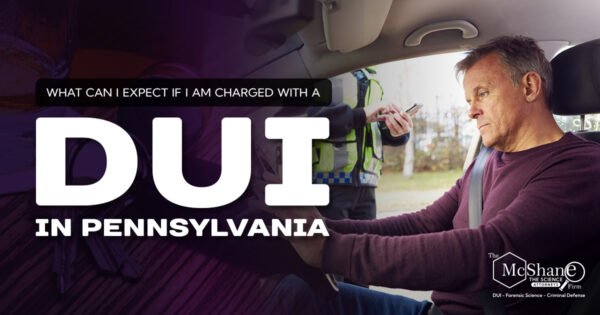 Criminal Charges: If you are found to have a blood alcohol content (BAC) of .08% or higher or drugs in your system or you are drunk or high while driving, you will be charged with DUI. This is a criminal offense, and if convicted, you will have a criminal record.
Administrative Penalties: In addition to criminal charges, you may also face administrative penalties. This includes the automatic suspension of your driver's license for a period of time, as well as fines and court costs if you are convicted.
Court Appearance: You will have to appear in court to answer to the charges against you. in fact you will have many court appearances which are mandatory for you to be at. Court is held during normal working hours. During this time, you may have the opportunity to enter a plea, and if you choose to plead not guilty, a trial date will be set.
License Suspension: After the arrest and if you are convicted, your license is automatically suspended for a period of time, depending on various factors.
Alcohol Education: If you are convicted of DUI, you may be required to complete an alcohol education program, which can include classes, counseling, and substance abuse treatment. You will also have to attend to other programs like the DUI Victim Impact panel where victims of DUI who have lost family members will tell you about their experience as a victim.
Ignition Interlock Device: If you are convicted or into ARD, you may be required to install an ignition interlock device in your car which prevents the vehicle from starting if the driver's breath alcohol level is above a certain limit.
Jail: Depending on the facts and circumstances, jail is always a possibility with a DUI conviction.
Probation: If you are convicted and even if you are placed in jail, you will have to be on probation for quite a long period of time. You will be assigned a probation/parole officer. You will be told the rules of probation and parole which will significantly impact your freedom to move, associate and do things you may like to do in life.It's important to note that the consequences of a DUI conviction can vary depending on the specific circumstances of the case, such as the driver's blood alcohol level, prior convictions, and whether anyone was injured or killed. It's also important to contact a DUI attorney to help you navigate the legal process and protect your rights.