Communication is at the heart of any successful attorney-client relationship. However, some law firms place stringent limitations on client communications, including restricting phone calls to just one 15-minute session ever. This can leave clients feeling unheard and stressed. It can lead to horrible results. Here are five reasons why some lawyers implement this practice, why it's unacceptable, and how The McShane Firm operates differently.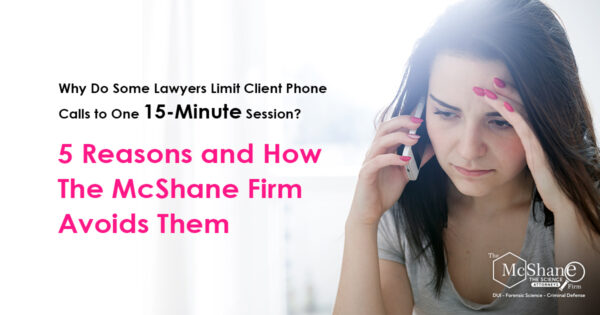 1. Time Management
The Reason:
Lawyers might limit client phone calls to manage their time better, fitting more potential new client consultations into their workday.
Why It's Unacceptable:
While time management is crucial, sacrificing client communication to chase "new money" is counterproductive and harms the attorney-client relationship. These lawyers typically charge a low "teaser" like fee that attracts price shoppers who don't know any better as to their true needs which is to understand what is happening to them. 
The McShane Firm Difference:
We believe that clients have the right to proactive communication. We make it a point to return all phone calls, texts, and emails promptly, without any arbitrary time limitations. We allow for unlimited phone calls. We do not treat you like a mushroom (keep you in the dark and shovel you poop in hopes that you grow). 
2. Avoiding "Non-Billable" Time
The Reason:
Some lawyers focus solely on billable tasks and see client phone calls as a non-revenue-generating activity. They charge by the hour. 
Why It's Unacceptable:
The essence of legal representation goes beyond billable hours. It includes building a relationship based on trust and open communication.
The McShane Firm Difference:
We do all of our work in flat fees. We do not have hidden fees where if you want to talk to your lawyer beyond that one time 15-minute phone call, you have to pay a lot of money. Our approach focuses on value-added legal services. We don't shy away from spending the necessary time communicating with our clients to give them a good night's sleep.
3. Lack of Personal Commitment
The Reason:
Limiting client interaction might stem from a lawyer's lack of personal commitment to the client's case. Your case is just one on the pile.
Why It's Unacceptable:
Lack of commitment not only harms the case but also destroys the trust clients place in their attorneys.
The McShane Firm Difference:
We are fully committed to each case we take on. We actually care what happens to you. We are personally invested in your success in court and in life. Our clients have the right to expect us to be professionally prepared for all meetings and court appearances, never limiting essential communication.
4. Overburdened Caseload
The Reason:
Some lawyers may restrict client calls due to an excessive number of cases. This is the biggest reason. 
Why It's Unacceptable:
Taking on more cases than one can handle adequately is irresponsible and unfair to all clients involved.
The McShane Firm Difference:
We manage our caseload carefully to ensure that each client gets the personalized attention they deserve, without any restrictions on phone call durations.
5. Lack of Transparency
The Reason:
Some lawyers limit client phone calls to avoid hard questions or to keep clients in the dark about the details of their case.
Why It's Unacceptable:
This lack of transparency undermines the very foundation of the attorney-client relationship and can lead to misunderstandings and mistrust.
The McShane Firm Difference:
We maintain full transparency in all dealings with our clients. They have the right to be fully informed at all times, and we uphold that right diligently.
In Conclusion
While some law firms may rationalize limiting client phone calls to a 15-minute session, we believe that this practice is unacceptable. At The McShane Firm, we prioritize open, honest, and unlimited communication, ensuring that all client concerns are addressed adequately and promptly. Our clients have the right to expect more, and we deliver. Choose a law firm that values your time and communication—choose The McShane Firm.