There's a common joke that says, "What's the difference between a lawyer and a herd of buffalo? The lawyer charges more!" While this joke pokes fun at lawyers' fees, there's a more frustrating issue that clients often face—the failure to receive prompt communication from their attorney. Few things are as frustrating as waiting for your lawyer to return your phone call, especially when you're in a situation that demands urgent attention and clarity. So, why don't lawyers return phone calls? Here are five reasons and an explanation of why each reason is unacceptable.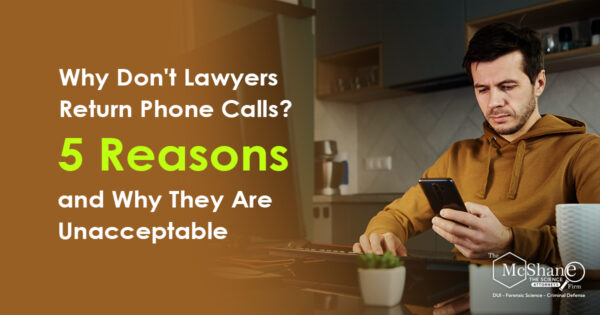 1. Overwhelmed with Work
The Reason:
Some lawyers may argue that they are too busy with their caseloads to return phone calls promptly. They might be in court, meeting with clients, or working on urgent matters.
Why It's Unacceptable:
Lawyers are in a service industry, and communication is a vital part of that service. Being too busy should never be an excuse for leaving a client in the dark. Adequate staffing and time management can help attorneys stay on top of their communication commitments.
2. They Don't Have Updates
The Reason:
An attorney might not return calls because there is no new information to report on the client's case.
Why It's Unacceptable:
A quick call to say that nothing has changed can provide immense peace of mind to a client. The absence of an update is still an update and is essential for managing client expectations and stress levels.
3. Prioritizing Billable Hours
The Reason:
Lawyers might focus on billable activities, perceiving phone calls as a distraction from revenue-generating tasks.
Why It's Unacceptable:
Even if the call itself is not billable, maintaining strong client relations is essential for long-term success and reputation. Ignoring calls undermines trust and can lead to negative reviews or even loss of business.
4. Apathy
The Reason:
Some lawyers may not prioritize client communication because they feel it's not as crucial as the legal work itself.
Why It's Unacceptable:
Clients are entrusting lawyers with critical aspects of their lives. Lack of communication can be perceived as a lack of concern, thereby eroding the client's trust and confidence in their legal representation.
5. Fear of Giving Bad News
The Reason:
Lawyers might avoid returning calls if they have unfavorable updates to share, fearing a negative reaction from their client.
Why It's Unacceptable:
Honesty is crucial in any client-lawyer relationship. Clients have the right to be fully informed, even when the news is bad. Transparency and straight-shooting communication are essential for navigating complicated legal situations.
In Conclusion
While the above reasons may offer some insight into why lawyers fail to return phone calls, none of them provide a valid excuse. Client communication is not just a courtesy; it's a fundamental aspect of good legal service. It's crucial for law firms to ensure that they not only provide excellent legal services but also maintain open and prompt lines of communication with their clients. After all, a well-informed client is generally a happier, more satisfied client.
The McShane Firm. DUI. Criminal Defense. We do it better than the other guys. We communicate. We listen. We provide clients what they want, when they want: full and complete information.