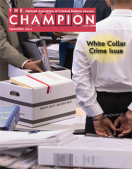 The recent Supreme Court Ruling in Bullcoming v. New Mexico has a significant impact on DUI cases. The ruling established "The Particular Witness Rule" which mandates that the forensic analyst who performed the actual test must be available in court and cannot be substituted by an supervisor or other expert.
Recently, "The Champion" Magazine, the official publication of the National Association of Criminal Defense Lawyers (NACDL), published an article by Attorney Justin McShane, Josh Auriemma and Sebastian Watt on this landmark case. The article is entitled:
A Post-Bullcoming World: Does Justice Sotomayor's Concurrence Undermine The Majority Opinion?
Once again, being published in a prestigious legal journal underlines the level of experience that Attorney McShane has and his acceptance by the legal community.  If you want to put Attorney McShane's knowledge and experience to work for you, please call 1-866-MCSHANE for a free consultation.