This week a workshop proposal was accepted by the American Academy of Forensic Sciences (AAFS) for the 2013 AAFS Annual Scientific Meeting to be held on February 18.  My presentation is "Melendez-Diaz, Bullcoming, and  Williams: Scientific Evidence and the Right to Confrontation."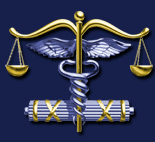 Science is great.  Scientific evidence has lead to the exoneration of many innocent people as well as helping to solve many cold cases.  But science is only science when the proper procedures and protocols are followed.  All too often, technicians at government crime labs do not adhere to these standards and spit out results that are erroneous.  For a current and famous example of this, please refer to the the Annie Dookhan crime lab scandal.  She tampered with evidence and contaminated samples to help prosecutors get false convictions.  Unfortunately, because these false results came from a crime lab, under the guise of science, judges and jurors trusted them.
The best method we have to uncover the truth about scientific evidence it to cross-examine them in a court of law.  To do that, the technician who tested the sample at the crime lab must be made available so that questions about procedures can be answered.  This half-day workshop to the AAFS will focus on the Confrontation Clause and its application in cases involving scientific evidence.
The AAFS puts together a wonderful seminar and I encourage DUI lawyers to attend and learn.  I hope you will join me!