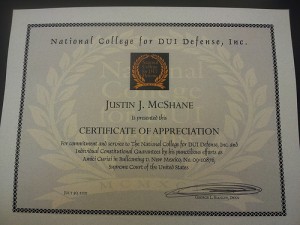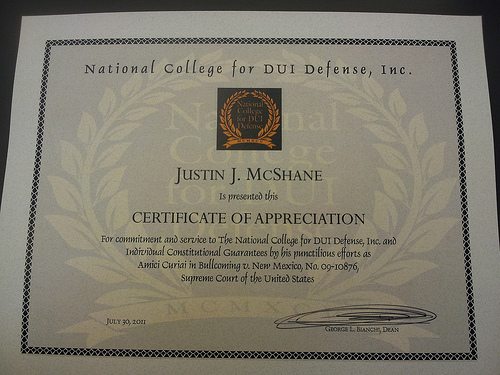 We are in the midst of the NCDD Summer Session for 2012 hosted by the National College for DUI Defense.  It is THE premier DUI training seminar.  The brightest minds in DUI defense are called upon for this three- day intensive training seminar which covers the most important aspects of DUI defense.  There is a whole lot to learn!
Like in years past, the NCDD Summer Session will be held at the facility of Harvard School of Law in Cambridge, MA.  Also like in years past, all of the attorneys of The McShane Firm will be in attendance.  No DUI law firm in Pennsylvania sends as many lawyers to the NCDD Summer Session as The McShane Firm.
I am also humbled and honored to announce that I have been selected to speak in front of the conference on my personal area of expertise, DUI blood testing.  My speech will be entitled:  Basic Gas Chromatography for Blood Alcohol Content.  For me this is a huge achievement because being selected to speak at the summer session is the ultimate recognition of my hard work and research in the fields of forensic science and DUI blood testing.
Don't forget to follow the Summer Session on Twitter #NCDDSummer
The complete itinerary is as follows:
NCDD 2012 Summer Session
Wednesday, July 25, 2012

Time

Event Description

Location

3:00 p.m. – 5:00 p.m.
Registration
Charles Hotel Lobby
6:00 p.m. – 7:00 p.m.
Attendees' Reception
Charles Ballroom Foyer
7:00 p.m. – 9:00 p.m.
Attendees' Dinner
Charles Ballroom
SEMINAR DAY ONE – Thursday, July 26, 2012

Time

Event Description

Guest Speaker

8:00 a.m. – 8:30 a.m.
Registration/Continental Breakfast
(Austin North)
N/A
8:30 a.m. – 9:00 a.m.
Opening Remarks
George A. Stein, Dean
9:00 a.m. – 10:15 a.m.
Using Scaled Questions to Maximize Your Time During Jury Selection
Robert B. Hirschhorn
10:15 a.m. – 10:30 a.m.
Break
10:30 a.m. – 12:00 p.m.
Workshop – Jury Selection*For those in a non-jury state, a special workshop will be conducted by Leonard R. Stamm and Peter Gerstenzang
12:00 p.m. – 1:15 p.m.
Lunch
1:15 p.m. – 2:00 p.m.
Trial Strategy & Breath Testing
Mimi Coffey
2:00 p.m. – 2:45 p.m.
Making the Right to a Fair TrialUnfair to be Fair
J. Gary Trichter
2:45 p.m. – 3:00 p.m.
Break
3:00 p.m. – 4:00 p.m.
Ethics
Erin H. Gernstenzang
4:30 p.m. – 6:00 p.m.
Meet the Regents & Fellows – Charles Hotel Bar
SEMINAR DAY TWO – Friday, July 27, 2012

Time

Event Description

Guest Speaker

8:00 a.m. – 8:30 a.m.
Continental Breakfast
(Austin North)
N/A
8:30 a.m. – 8:45 a.m.
Announcements/Awards
George A. Stein, Dean
8:45 a.m. – 9:45 a.m.
The Art of Persuasion & The Closing Argument
Tyrone Moncrief
9:45 a.m. – 10:00 a.m.
Closing Demo
John S. Webb
10:00 a.m. – 10:15 a.m.
Closing Demo
Felipe Placencia
10:15 a.m. – 10:30 a.m.
Break
10:30 a.m. – 12:00 p.m.
Workshop – Closing
12:00 p.m. – 1:15 p.m.
Lunch
1:15 p.m. – 2:45 p.m.
Innovations in Jury Selection: Harvesting Skewed Venires; Juiced Jurors; Mental Blind Spots and Perfecting a Challenge for Cause
Dr. Sunwolf
2:45 p.m. – 3:00 p.m.
Break
3:00 p.m. – 4:00 p.m.
Cross Examination – A Performance
Michael M. Hawkins
SEMINAR DAY THREE – Saturday, July 28, 2012

Time

Event Description

Guest Speaker

8:00 a.m. – 8:30 a.m.
Continental Breakfast/Announcements
(Austin North)
N/A
8:30 a.m. – 9:45 a.m.
Basic Gas Chromatography for Blood Alcohol Content
Justin J. McShane
9:45 a.m. – 10:00 a.m.
Break
10:00 a.m. – 11:00 a.m.
The Real Field Sobriety Tests
Stephen L. Jones
11:00 a.m. – 11:30 a.m.
Dean's Address
W. Troy McKinney
11:30 a.m. – 12:45 p.m.
Lunch
12:45 p.m. – 1:45 p.m.
Keynote Address
Hon. Joseph D. Johnson
1:45 p.m. – 3:00 p.m.
Special Awards & Graduation