Pennsylvania DUI attorney Justin McShane has always been known across the legal fraternity as someone willing to teach and help other lawyers become better.  He has an extensive speaking resume and has lectured at some of the most advanced DUI seminars in the nation.  Recently, Attorney McShane was honored for his services by the Texas Criminal Defense Lawyers Association (TCDLA).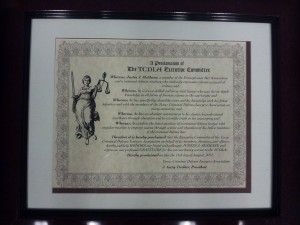 By way of background, the Texas Criminal Defense Lawyers Association (TCDLA) is the largest state association for criminal defense attorneys in the nation. TCDLA started more than 40 years ago as a small, non-profit association and has grown into a state-of-the-art organization, providing assistance, support and continuing education to its members. TCDLA provides a statewide forum for criminal defense lawyers and is the only voice in the legislature interested in basic fairness in criminal defense cases. \Among its 3100 members are found the "who's who" of the criminal defense profession in Texas.
TCDLA hosts more than 45 seminars each year, providing the highest quality legal education available for new lawyers, as well as seasoned veterans. Attended regularly by members, non-members, judges and professionals in related fields, its yearly seminar attendance has increased to approximately 4500 people seeking to continue their educational opportunities.
The executive committee of the TCDLA recently issued a proclamation honoring the services of Attorney Justin McShane.
The proclamation reads as follows:
Whereas, Justin J. McShane, a member of the Pennsylvania Bar Association and a criminal defense attorney who zealously represents citizens accused of crimes; and

Whereas, he is a skilled and fierce trial lawyer who uses his in-depth knowledge in all forms of forensic science in the courtroom; and

Whereas, he has unselfishly shared his time and his knowledge with his fellow defenders and with the members of the Texas Criminal Defense Lawyers Association on many occasion; and

Whereas, he has an absolute commitment to his clients, to professional excellence through education and to scientific truth in the courtroom; and

Whereas, he exhibits the finest qualities of a criminal defense lawyer with singular mission to improve justice through science and education of his fellow members of the criminal defense bar:

Therefore it is hereby proclaimed that the Executive Committee of the Texas Criminal Defense Lawyers Association on behalf of its members, directors, and officers hereby publicly HONORS our friend and colleague JUSTIN J. McSHANE and expresses our profound GRATITUDE for his extraordinary service to the TCDLA; Hereby proclaimed on this the 11th day of August, 2011.

Texas Criminal Defense Lawyers Association

J. Gary Trichter, President
This is indeed a huge honor and a strong endorsement of Attorney McShane's knowledge of DUI and his commitment to excellence.  Attorney McShane is recommended and trusted by lawyers across the country and is recognized as being amongst the elite DUI attorneys in the country.  If you need to hire the very best DUI attorney, please call 1-866-MCSHANE.