It is Thanksgiving.
I am most thankful for our laws and the constitutions (both federal and state).
Thanksgiving time always highlights to me how far away we may have gotten from our constitutions.  Maybe because I am a Pennsylvania DUI Attorney and I do what I do every day I think in these terms.  However, with this post, I ask you to sit back and think about DUI roadblocks.
Every Thanksgiving, we throw up roadblocks after roadblocks after roadblocks supposedly to combat Pennsylvania DUIs.  Ordinarily, without a roadblock, a police officer cannot lawfully stop a motorist along his or her way without a particularized reason that rises to the level of probable cause (in the case of non-investigable offenses per Commonwealth v. Chase) or reasonable suspicion (for investigatable offenses per Commonwealth v. Chase).  However, we throw these major constitutional precepts into the trash all for the sake of Pennsylvania DUI roadblocks.  With roadblocks, a car gets stopped for no reason whatsoever.  It gets stopped because it exists on the road.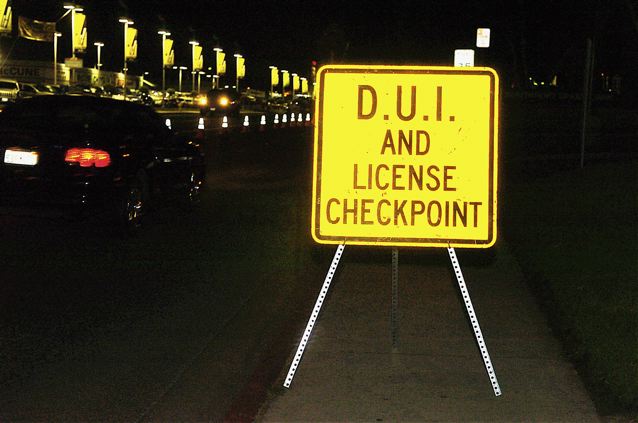 (a typical warning sign that must be displayed for a Pennsylvania DUI roadblock)
In Pennsylvania systematic, non-discriminatory, non-arbitrary roadblocks intended to insure highway safety are Constitutional.  So says our Pennsylvania State Supreme Court as well as the United States Supreme Court.
However, very stringent requirements must be followed in order to make sure that the intrusion of the roadblock is minimized and based upon data.  In my review of many of the surrounding counties (Dauphin, Cumberland, York, Lebanon, Franklin, Fulton, Adams, Berks, Lancaster and others) that we handle DUI cases for the benefit of the citizen accused, the Government oftentimes does not follow these rules.
First, the roadblock must be set in an area where there is data to support the need for it.  The data must be verified and based upon sound traceable numbers.  It must be based upon an evaluation and/or statistical review of DUI related accidents or arrests on a particular road or in a particular area in a municipality and during a particular day of the week/time.  If there is no data or if the data does not support the decision as to where to put up the roadblock, then that alone can totally invalidate the roadblock rendering all arrests and BAC results invalid leading to the dismissing of all charges.
Here are some more legal requirements that must be proven by the Government or likewise the resulting arrests will be invalidated with the charges being dismissed:
1.    The initial vehicle stop in which the driver is first observed must be brief and cannot include a physical search of the vehicle or occupants.
2.    Motorists cannot be caught by surprise but must have sufficient advance visual notice (and advisable media notice) of the roadblock.
3.    The decision to hold the roadblock must be made by supervisory officials acting in administrative or managerial capacity, not by patrol officers.
4.    The location and time of the operation of the roadblock must be based on verifiable criteria as to the history of drunken driving accidents and arrests at the chosen locale.
5.    The determination of which vehicles to stop must be based on administrative decisions relying on objective standards, not left to the individual police officers left on the scenes unfettered discretion.
Also lawfully stopping your car or lawfully turning around your car (which is oftentimes mischaracterized by the police as "avoiding a roadblock") cannot form the basis to stop a car.
If you have questions about a roadblock, give us a ring.

---
-Justin J. McShane, Esquire, Pennsylvania DUI Attorney
I am the highest rated DUI Attorney in PA as Rated by Avvo.com
You can follow me on Twitter , Facebook or Linkedin.