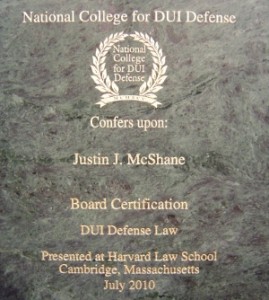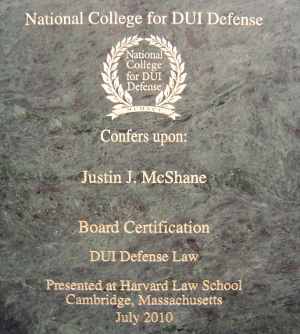 Any regular reader of this blog knows the emphasis The McShane Firm puts on advanced legal training for DUI.  No DUI lawyer in Pennsylvania has a training resume that matches mine.  In fact, by the end of the year I will have put in over 600 hours worth of advanced DUI and forensic training.  That's the equivalent of 15 working weeks.
It's only fitting that I recently became the first (and so far only) Pennsylvania DUI Lawyer to be Board Certified in DUI Defense. This certification is issued by the National College for DUI Defense and is the only Board Certification in DUI Defense accredited by the American Bar Association.
From the NCDD website:
In an effort to assist the public in recognizing lawyers who focus their practice on defending those accused of DUI and who have demonstrated their competence to do so, the Board of Regents certified its first lawyers in 1999. In 2003 the American Bar Association recognized DUI Defense Law as a legal specialty area of practice, and the following year the ABA accredited the College to certify lawyers in the DUI Defense Law specialty area. The NCDD is presently the only organization accredited by the ABA in this specialty field.
Board Certification in DUI Defense is only issued after completion of a rigorous examination process:
In order to be Board Certified, an applicant must satisfy certain minimum practice requirements and pass both written and oral examinations testing his or her knowledge of substantive and procedural law in this field. Specifically, the examination focuses on scientific issues, the NHTSA guidelines on field sobriety tests and drug recognition tests, as well as other legal and ethical issues applicable to the defense of drunk driving cases.
This is definitely an exclusive honor and a distinction that I am very proud of and it is a testament to the hard work I put in for the citizen accused of a DUI.  If you or someone you know is accused of a DUI in Pennsylvania call 1-866-MCSHANE and sit down with one of our highly trained DUI lawyers.  Only The McShane Firm, Only the best.