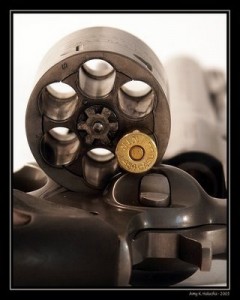 DUI testing scandals are nothing new nor are they even rare.  From Central Pennsylvania to San Fransisco to Indiana to the Nation's Capital, DUI testing scandals have effected tens of thousands of cases across the country.  Lack of oversight, mishandling, cover-ups and under-qualified/over-worked technicians have become the norm rather than the exception.  This time another DUI testing scandal hits Houston.
As I have argued before, there are two major problems created by the cloud of unreliability hanging over these tests: Innocent people are being falsely convicted and guilty people are not being brought to justice because the evidence is faulty.  We are basically playing Forensic Russian Roulette with peoples lives and careers at stake.
We are gambling with peoples lives and undermining Justice with faulty forensics.  The next victim could be you or someone you love.