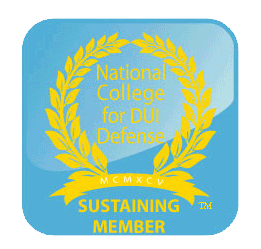 Recently, I was elected as a Sustaining Member to the National College for DUI Defense.  Sustaining membership is awarded after a through peer review process and only to those who have shown a commitment to DUI defense.  From the NCDD site:
In furtherance of its mission and purposes, the College has established a "Sustaining Member" class of membership to recognize exceptional attorneys who meet the eligibility criteria established for sustaining membership by the Board of Regents and who through their knowledge, trial experience, continuing education and reputation among peers in the field of DUI defense have committed themselves to being leaders in furthering the educational mission of the College and in promoting the ideal that lawyers defending persons charged with intoxication related offenses deserve and should expect exceptionally well educated, well prepared, and competent representation.
It is a great honor to be recognized by such a prestigious organization like the NCDD and even more satisfying is the fact that this award was conferred after a review of my work by my peers.  People who know law, who know DUI law- trust and recognize Justin McShane and The McShane Firm for our elite commitment to DUI defense in Pennsylvania.
If you want the best DUI representation in PA, please call 1-866-MCSHANE.